REACH CONSUMERS
MicoTVR is a digital signage product designed for and dedicated to the Canadian optical industry. Personalized for each practice, it addresses consumers in a buying mode. MicoTVR offers a turnkey solution: equipment, installation, production of still information and promotion images, and a library of informative video clips created by MicoTVR , as well as suppliers' clips.
Allows clinics to tell customers about their services, products and promotions
Allows suppliers to introduce their products and services
45 to 75 second video clips on eye health targeting ECPs' customers
Suppliers' video clips; each clinic can choose from any of the following categories:

Ophthalmic
lenses

Photochromic lenses

Sunglasses

Frames

Contact
lenses

Other
HOW IT WORKS
Set up in a high traffic area (waiting room) without audio,
prompting clients to pay attention.
MicoTVR SYSTEM
Centralized at the MicoTVR office, there is no handling required by the clinic. The clinic or corporate office decides on the content of the message to be conveyed and MicoTVR programs the display system accordingly, leaving staff members attending to their customers.
The way it works:
Requests for clips and videos are addressed to MicoTVR customer service by email or by phone
When required by the ECPs practice, free layout/design of still images about local promotion and information
MicoTVR assembles the loops and the still images and upload to each clinic
Response time: 1 to 2 business days
Flexible for specific promotion periods that can be scheduled for any number of days
Technical requirements:
AC 120 volt outlet for monitor/screen and media player
Internet connection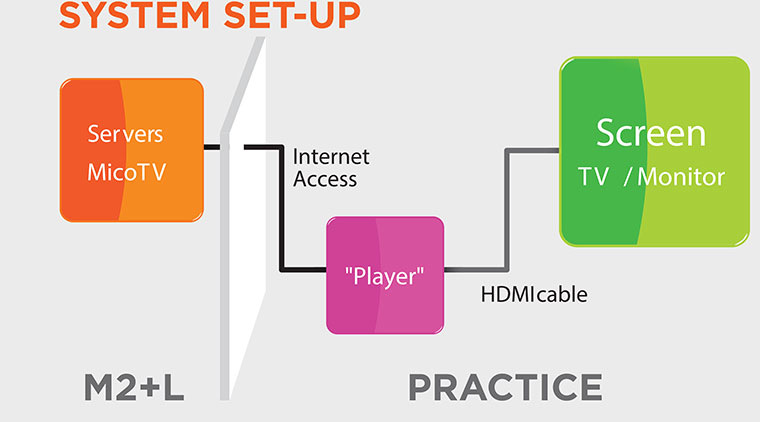 TURNKEY SOLUTION
MicoTVR OFFERS A TURNKEY SOLUTION
System set up and installation
From its library:

Choice of eye health video clips
Choice of suppliers' video clips

Free production of still images
Permanent network access and monitoring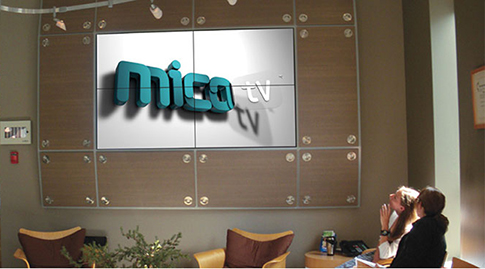 BENEFITS AT THE PRACTICE LEVEL
Source of information for qualified customers
Helps to increase sales per customer
Reduces the perceived waiting time
Improves the customer's experience
Opens up communication (discussion) with customer's ECP
Promotes products and services available at the clinic
TV screen on/off function programmed to play during business hours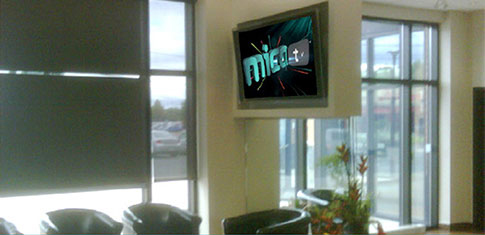 89
%
of consumers are very much in favour of dynamic displays at points of sale
(Source: KPMG)
75
%
of visitors recall digital displays
(Source: Ipsos)
70
%
of buying decisions are made at points of sale
(Source: Popai)
24
%
Dynamic display campaigns increase sales by an average of 24%
(Source: Popai)
...even one additional sale per month generated by MicoTVR in each clinic secures a return on your investment.
PARTNERS